WHO?
Kayli & Neme = Kayleme
We're a couple from Argentina, both self taught artists and Graphic Design students. We're living together under the reign of two evil cats, lord Zeke and his acolyte Kuper.

▪️ Kayli is the chibi lady, her style is soft and cute. She mostly draws heartwarming chibis in Procreate with an Ipad.

▪️ Neme is the cool dinosaur, his style is more cartoony and he's the one who animates stuff. He uses a wacom tablet and works with Paint Tool Sai and the Adobe Suite.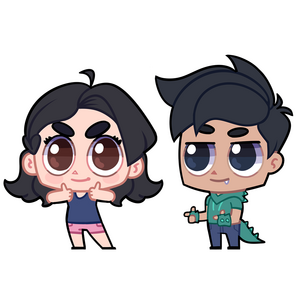 WHAT?
▪️ We make all kind of art commissions, you can find those here: Commissions Info

▪️ We also love making fanarts, we started with lots of League of Legends and also made many Valorant ones. But now we're open to pretty much everything feels interesting to us.
You can get some merch on our Redbubble!

▪️ Neme has an interest for animation, so you could see that too.
WHERE?
▪️ We're most active on Instagram! There you can find our main account and a furry one: @KaylemeArt & @KaylemeFurry

▪️ Twitter is also a good place to find us: @KaylemeArt. We're not very good at it tho.

▪️ If you like what we do and want to support us, we have a Ko-Fi! We try to offer different rewards when we have the time, but for the most part it will work as a tip jar.

▪️ And if you're into NSFW stuff, Neme will take care of that. You can check his twitter @DatNeme and
Patreon
Read our Terms and Conditions

Prices can differ from these examples due to: nsfw, complexity of the character or scene, shorter deadlines, different artstyles, commercial purposes, extra details or elements, special offers, etc.
CHIBIS (NEME) - 10 usd each
CHIBIS (KAYLI) - 10 usd each
CHIBI PAGE - 50 usd
4 mini chibis + 1 headshot + 1 Fullbody
TWITCH/DISCORD EMOTES - 15 usd each
CARTOONS (KAYLI)
Headshot/Icon - 15 usd
Knees up - 25 usd
Fullbody - 35 usd
CARTOONS (NEME)
Headshot/Icon - 15 usd
Knees up - 25 usd
Fullbody - 35 usd
OTHERS - Ask us!

Backgrounds, Animations, Caricatures, Furrys, Mechas, Memes, NSFW, Etc
See our prices and examples

Read our Terms and Conditions ‼️

Send us a message!
▪️ You can do it on any of our social media or directly to: [email protected]

What kind of commission do you want?
▪️ Please be specific, add references and describe the pose, expression, color, background, etc.

Do you have a specific budget?
▪️ Share it with us. We can tell you what we can offer.

Don't see what you're looking for in our examples?
▪️ Just ask! Don't worry, we are open to new ideas!
---
IMPORTANT
▪️ The commission we are selling are FOR PERSONAL USE ONLY.
▪️ We reserve the right to refuse any request.

PAYMENT
▪️ We only accept PayPal.
▪️ We will send you an invoice.
▪️ We start once the payment is sent.
▪️ We will only refund if the work has not been started.

DRAWING PROCESS
▪️ Time will depend on its complexity and how busy we are at the moment.
▪️ We'll show previews on each step of the process.
▪️ After you approve the sketch, all changes MUST be small and reasonable.

DELIVERY
▪️ Default format and size are JPG 2000x2000px.
▪️ If you share it online you must give credits (@KaylemeArt or @KaylemeFurry)
▪️ We reserve the rights over the artwork.

.

If you order from us, we understand that you have read and accepted the terms on this text.
THANK YOU SO MUCH for your interest and support!
FULLBODYS CARTOONS
FURRYS
KNEES UP
REFERENCE SHEETS / CUSTOMS CHARACTERS
CHIBIS
ICONS/HEADSHOTS
FULLBODYS CARTOON
KNEES UP
CHIBIS
OTHERS